Winifred Christine Campbell Morrell (1896-1974)
---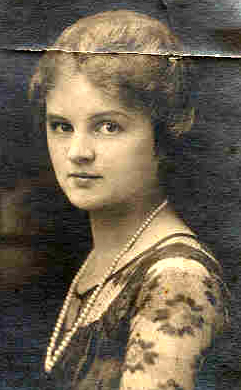 GENETIC PARENTS
Father:
Reginald Lister Morrell
Mother:
Ada Florence Brown
GENETIC CHILDREN
Son: Private
Daughter: Private
Daughter:Private
OTHER RELATIONS
Husband: Lloyd Davison McDonald, married October 14, 1922
Sister: Irene Louise Morrell (Married name: Irene Tagliere)
Sister: Louise Marion Morrell (Married name: Louise Hartnett)
BASIC DATA
Birthplace: Sydney, New South Wales, Australia
Birthdate: December 13, 1896
Place of Death: Cleveland, Ohio
Date of Death: August 15, 1974
HISTORY
Named after her aunt Winifred Violet Morrell
Family came to US after having lived in England, passing through Ellis Island 2/15/1909 via the ship St. Paul
Estranged from mother and sisters while in teens
Went to work Nov 1911 at (almost) age 15
Arrived Cleveland, Ohio August 1913

MORE IMAGES


Winifred, Kaiser the Dachshund, and elder sister Irene. Note the cane.

---

Irene and Winifred, a few years later.

---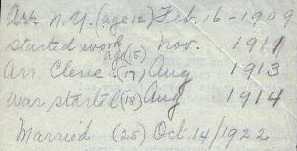 This note is from Winifred's papers.

---

Return to our Morrell Genealogy Index
Copyright © 2001, 2002, 2003 Thomas Payne
Morrell, Winifred Christine Campbell