Hopewell James Shuldham Morrell (1860-1906)
---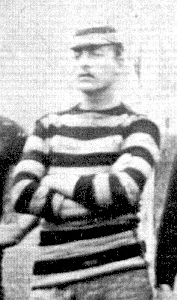 GENETIC PARENTS
Father:
Hopewell Baker Morrell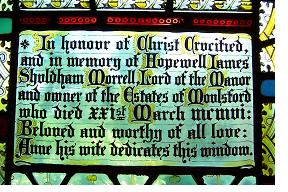 Mother:
Louisa Foote Hay
GENETIC CHILDREN
none
OTHER RELATIONS

Wife: Anne Alicia Estill (nee Ambrose), a widow with two children, who then married Major-General Sir William Donovan, K.C.B. after Hopewell's death


Sister: Louie Florence Morrell (June 1862[?]-6/22/1933) (death certificate says aged 73 years, so may have been born earlier)


Brother: Arthur Frederick Way Morrell (6/27/1863-5/6/1950) click here for more info on Arthur's descendents


Brother: Charles Sconce Morrell (5/14/1864-10/7/1948)
???? Brother: Herbert Hugh Morrell (5/7/1866-?)


Brother: Reginald Lister Morrell (12/22/1868-1927)


Sister: Winifred Violet Morrell (abt. 1869-1896)


Brother: Leonard Cyrill Morrell (12/26/1870-2/28/1939)


Brother: George Deacon Morrell (5/7/1872-1938)


Brother: Noel Hay Morrell (11/18/1874[?]-9/15/1906)


Brother: Walter Morrell (8/26/1876-?)
BASIC DATA
Birthplace: Paddington, Middlesex, England
Birthdate: December 22, 1860
Place of Death: Moulsford, Berkshire (now Oxfordshire), England
Date of Death: March 21, 1906
HISTORY
According to The Kilvert Society, Hopewell Jr. became a Lt. in the South Wales Borderers.
Took over Lordship of the Manor of Moulsford in 1903, intending to reside there... but died young. To pay for the extravagant improvements her late husband had been making to the estate, Moulsford was then sold off by his widow. See A Brief History of Moulsford.
Tombstone inscription at Moulsford reads, "In Memory of Hopewell James Shuldham Morrell Lord of the Manor at Moulsford died March 21st A.D. 1906 aged 45 years"

Football photo cropped from photo of Llandrindod Football Club, 1883, courtesy The Kilvert Society.

---

Return to our Morrell Genealogy Index
Copyright © 2001, 2002, 2003, 2004, 2005, 2006, 2007, 2008 Thomas Payne
Hopewell Morrell, Hopewell James Shuldham